Single Channel ECG Machine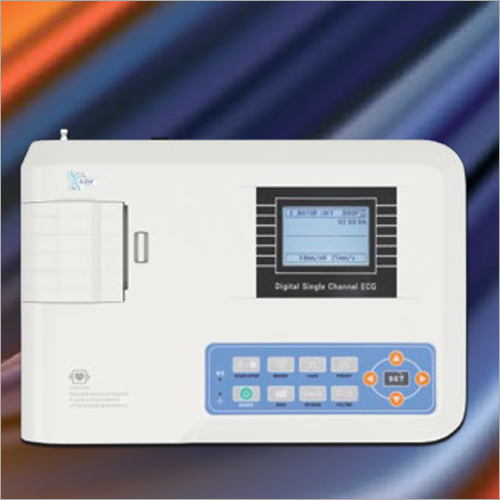 Single Channel ECG Machine
Product Description
Single Channel ECG Machine
Leveraging on our wide expertise and skills, we are renowned as one of the most profound traders and suppliers of Single Channel ECG Machine. Our entire assortment is procured from trustworthy and reliable vendors of the industry. The offered range of EDG machine is in compliance with the standards and norms set by the regulatory bodies. Offered at industry leading prices, our range of Single Channel ECG Machine is compact, light weight, portable and easy to use. Our range of ECG machine is in a high demand in the global market.
FAQs
How does an ECG Machine work?
To quantify the electrical movement signs of the heart, the ECG recorder is utilized for getting and recording the sign. Through the signs gathered from the terminals put on the skin, the information will be displayed as a diagram with examples to distinguish little electrical changes. Specialists can utilize it to analyze cardiovascular irregularities including musicality and primary changes of the heart.
What should you avoid before an ECG?
You don't have to do anything exceptional to get ready for the test. You can eat and drink as ordinary ahead of time. Before the anodes are joined, you'll typically have to take off your upper apparel, and your chest might should be shaved or cleaned.
Does blood pressure affect ECG?
Reason: Raised pulse prompts electrocardiographic changes and is related with an expansion in cardiovascular sickness further down the road contrasted with ordinary circulatory strain levels.
Contact Us
Suite No. 412, Suncity Trade Tower, Gurugram, Haryana, 122015, India
Phone :+918045475280